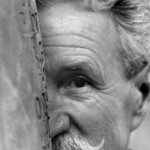 Bruno Lucchi was born in 1951 in Levico Terme, where he still lives and works. He was a student at the Istituto d'Arte in Trento and at the Magistero delle Belle Arti in Urbino.
Lucchi is the author of the imposing installation housed in the entrance-hall of the flagship Costa Magica of Costa Cruises. This work, entitled Tra memoria e visione (2004) is part of the artist's exploration of monumental forms and Mediterranean cultural imagery. The same flagship also houses on its deck another monumental sculpture by Lucchi, a bronze representing Poseidon God.
Since 1991 Lucchi has had 150 one-man shows and over 300 group exhibitions. All of them have taken place in the most prestigious private and public art galleries, both in Italy and abroad.
His work has been reviewed on the most relevant specialized magazines in Italy (Archivio, Arte, Arte In, Forum Artis, Images Art & Life, Tema Celeste).
In December 2000 the monthly Arte Mondadori devoted to the artist its monographic supplement.
The works of Bruno Lucchi are part of numerous private and public collections, both in France and abroad.